SAS Small Group Program aims to empower children aged 8 to 12 with identified social and emotional challenges, such as autism, attention deficit hyperactivity disorder (ADHD), and anxiety disorders.
The revolutionary program is offered by
SAS Providers
around the world. Their teams of professional
SAS Facilitators
lead children, their families and schools through this specialised, award-winning program.
Since its inception thousands of cadets have graduated as SAS Junior Detectives with the program receiving numerous awards.
What is SAS Small Group?
Secret Agent Society (SAS) is a breakthrough approach for empowering children's social and emotional skills. SAS Providers have been offering this evidence-based approach for over 10 years. The SAS Small Group Program consists of small group child sessions (club meetings), parent group meetings, teacher information sessions and Teacher Tip Sheets, paired with real-life practice missions and a system to monitor and reward skill development at home and at school. Combining family and facilitator resources, the content and program structure is accessed through an intuitive and engaging software package that streamlines program delivery and participation for all child and adults participants in face-to-face or telehealth sessions and between session activities.
SAS Small Group Program is evidence-based to empower children aged 8 to 12 with identified social and emotional challenges, such as autism, attention deficit hyperactivity disorder (ADHD), and anxiety disorders.
---
Evidence-based curriculum
The curriculum captivates children with its espionage-themed games and activities including: multi-level gamified learning through the SAS Digital Headquarters (SAS Digital HQ); a virtual Helpful Thought Zapper; role-playing through the SAS Challenger Board Game; finding smart solutions with the D.E.C.O.D.E.R problem solving formula; and deciphering emotions through Secret Message Transmission Device Game.
The program was originally developed for children aged 8 to 12 years with Autism.  However, current research and clinical/educational use supports its effectiveness with children who have other social and emotional challenges, including ADHD, anxiety disorders, and other diagnoses or social difficulties without formal diagnosis. The program teaches children how to:
Recognise emotions in themselves and others;
Express their feelings in appropriate ways;
Cope with feelings of anger and anxiety;
Communicate and play with others;
Cope with mistakes, transitions and challenges;
Build and maintain friendships;
Solve social problems;
Prevent and manage bullying and teasing and
Acknowledge their personal strengths.
Initially authored by Clinical Psychologist, Dr Renae Beaumont through the University of Queensland and now based at Weill Cornell Medicine, New York Presbyterian Hospital, SAS is an evidence-based framework combining theories of cognitive function and behaviour change.  For over 10 years, thousands of SAS cadets have graduated as SAS Junior Detectives!
2010 the SAS Computer Game was a finalist in the 16th Annual Australian Interactive Media Industry Association (AIMIA) Educational Game of the Year Award.
2014 SAS was awarded the Autism Spectrum Australia National Recognition Award for advancement to acknowledge the significant, positive impact the program has on children's and families' lives.
2014 the SAS Family Kit won the United States' Learning Magazine Teacher's Choice Award for the Family.
2018 The Autism CRC was awarded the CRC Association Award for Excellence in Innovation for its positive impact SAS has on children's lives across the world.
SAS Professional Training
Allied health, education and disability professionals typically deliver the SAS Small Group Program. Professionals learn to deliver the program aligned with evidence-based and clinical best practice in a flexible fourteen (14) hour
SAS Facilitator Training Course
.
SAS Small Group Program Components
SAS Small Group is a multi-component program that up-skills and empowers not only children with social and emotional challenges, but also the parents and teachers who support them. The program includes:
Child Group Meetings: delivered as 11-22 sessions of either 45 or 90 minutes, which includes 2-4 booster sessions.
The first 9-18 sessions are typically delivered weekly with the following 2-4 boosters sessions spread over a six month period.
Ideally the program is co-facilitated by two SAS Facilitators with a group of four to six children (maximum of three children with one SAS Facilitator). If this is not possible, a single SAS Facilitator may deliver the program with three to four children
Parent Group Sessions: commence with a 2-hour parent information session, followed by 11-22 group meetings of 30-45 minutes, or 4 x 2-hour sessions, over the course of the program.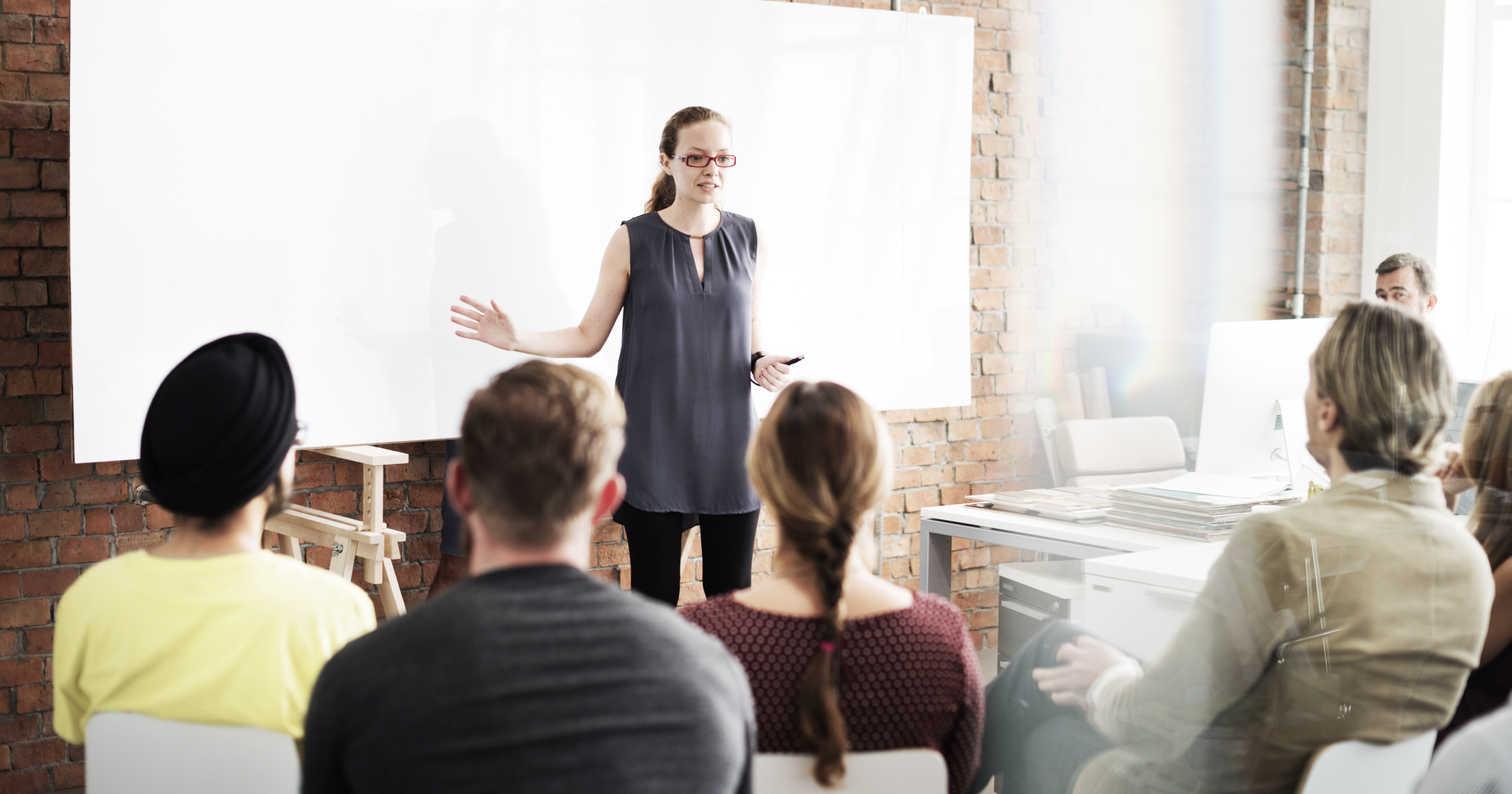 Parent group meetings are held throughout the program to advise and support parents on the content of child group meetings and how to help their children apply their SAS skills in real life.
It is optimal if parents have the opportunity for networking and facilitated discussion on the successes and challenges they have faced in supporting their children to use their newly learnt social skills.
Parent meetings are typically held after each child meeting and without children present.
If the program is being co-facilitated, one SAS Facilitator typically delivers the Parent Meetings while the other helps children to use their social-emotional skills during informal play activities.
If a service has multiple SAS Facilitators they have the options for holding the parent meetings concurrent to the child group meetings.
If the program is being delivered by a sole facilitator, children may be supervised by an appropriate adult during the parent sessions. Alternatively, the parent meeting content can be delivered at a different time/day. 
School Support: Classroom teachers are updated on the skills and content children are learning through SAS and how they can support the application of skills in the classroom and playground. This occurs through a combination of providing a series of SAS Teacher Tip Sheets, the Skill Tracker, teacher consultation, school visits, and an optional school staff presentation.
SAS is often written into children's individual learning plans to assist teachers to meet the social-emotional goals of their students.
The SAS Small Group Program is mapped to the Australian National Curriculum.
Missions and Mission Journal: Between each child group meeting, children participate in weekly tasks, including playing 4 levels of online gamified learning, skills practice activities in day-to-day life and completion of a reflection journal.
Skill Tracker System: A short-term daily motivation tool is used to encourage children to practice specific skills at home and school, aligned with progression through each module of the program.
Assessment Measures: A combination of questionnaire booklets, an observational assessment tool, computer game performance and Skill Tracker progress, provide valuable information to guide areas of focus for each individual child as well as providing easy and comprehensive outcome reporting.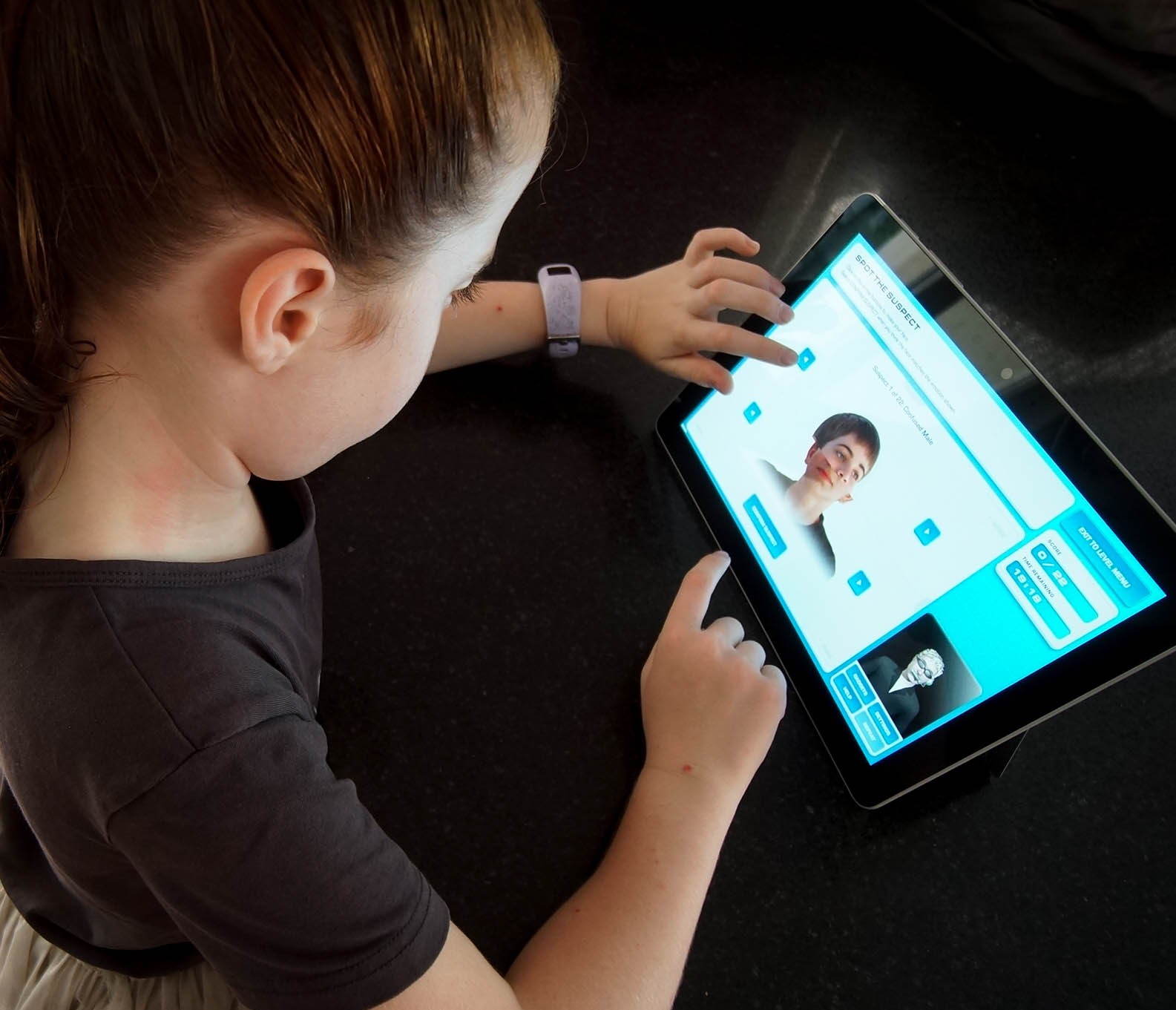 SAS Digital Headquarters: The online gateway for children to access their club meeting activities, four levels of gamified learning, digital gadget pack, a Mission Journal for self-reflection on real life practice tasks, a multi-user Skill Tracker system, and other tools. Watch the game trailer!
SAS Small Group Program Structure
This diagram provides an overview of the structure and timeline of SAS Small Group Program.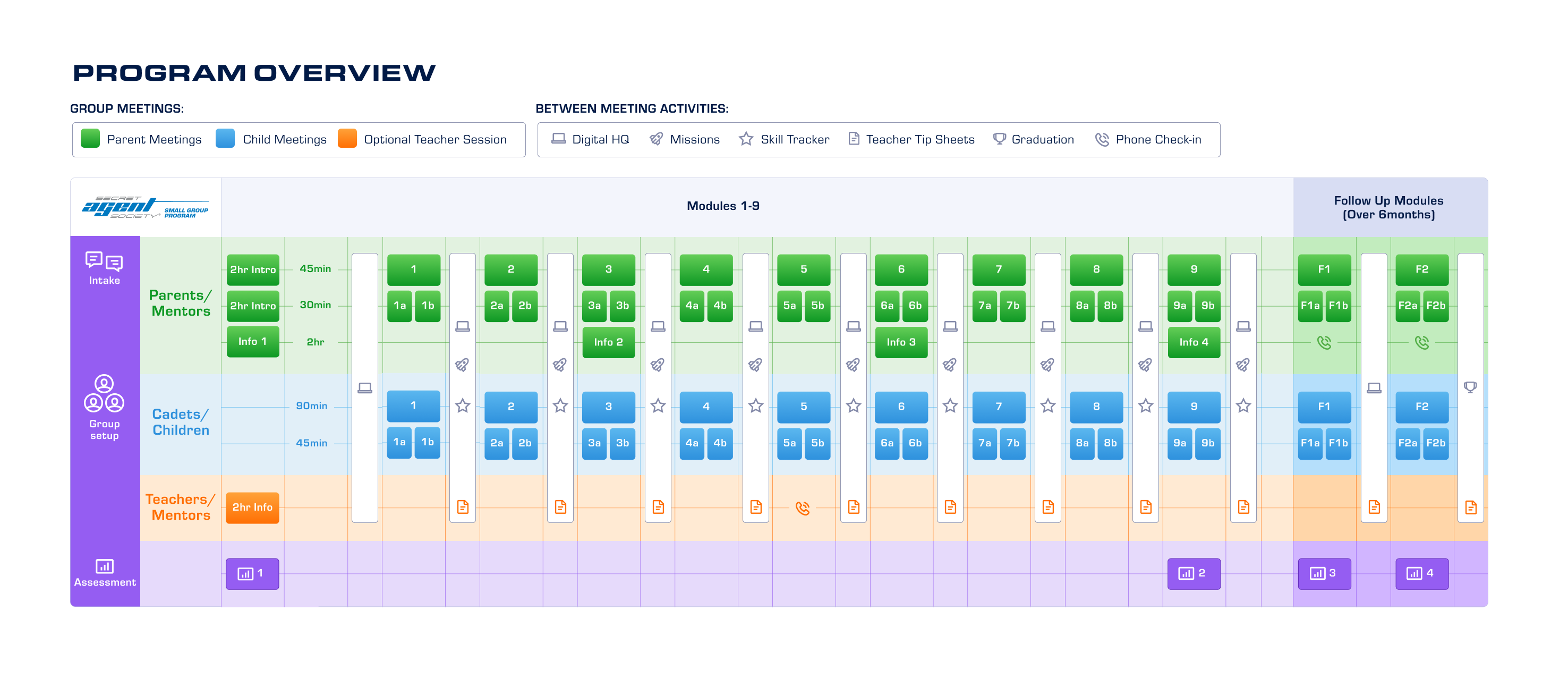 SAS Small Group Program Software
SAS Facilitators initially commence their SAS journey by completing the SAS Facilitator Training Course, accessing their SAS Facilitator instructions via the SAS Facilitator Dashboard. Once linked with a subscribed SAS Provider service, the Facilitator Dashboard opens up functionality to:
establish groups and allocate mentors to each child;
review materials and prepare session process in advance;
facilitate live SAS Small Group meetings for children and parents;
access just-in-time program instructions;
monitor group progress between sessions;
send automated links to the group's teachers and parents; and
access additional program resources and ongoing review the SAS Facilitator Training Course materials.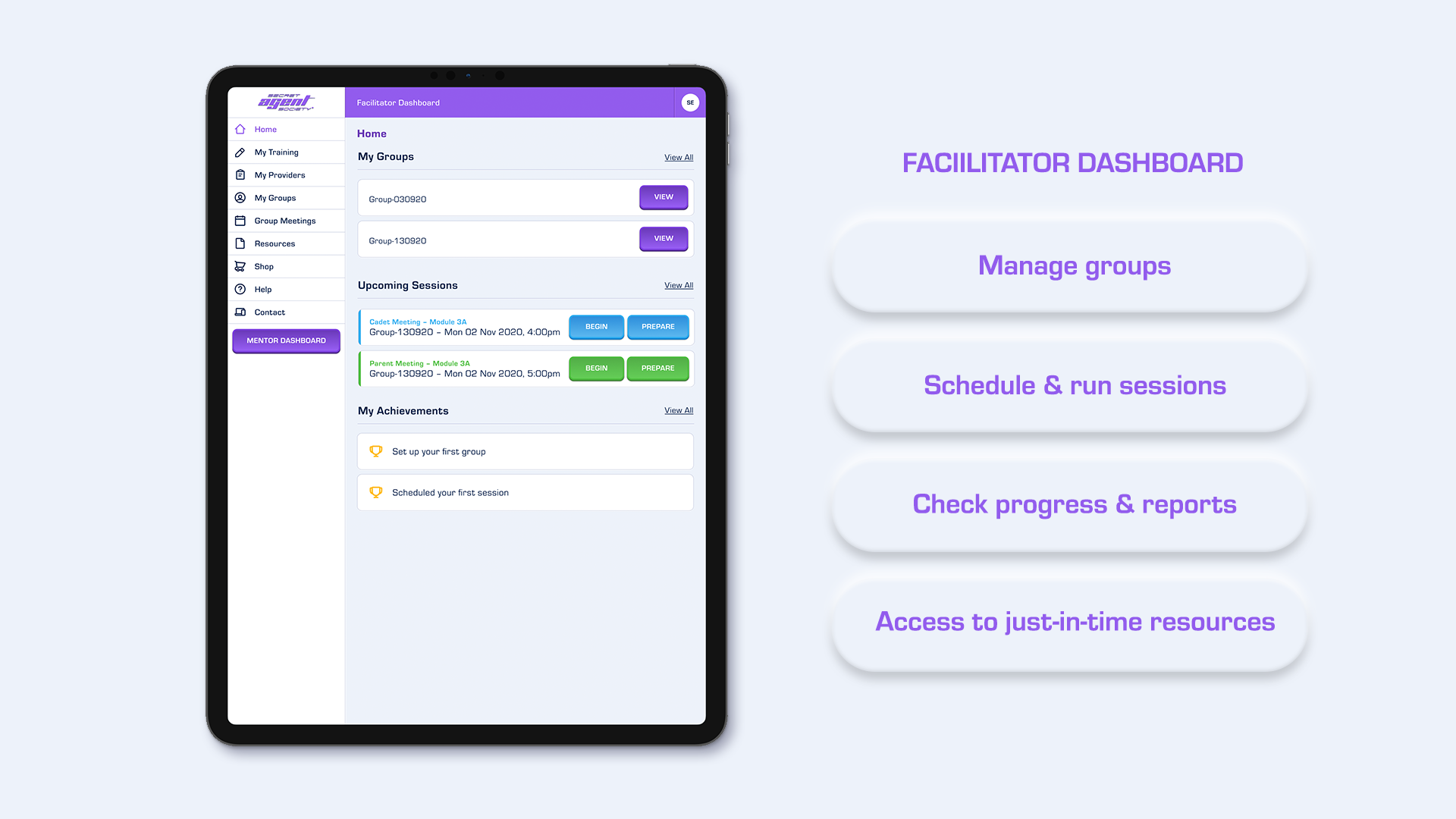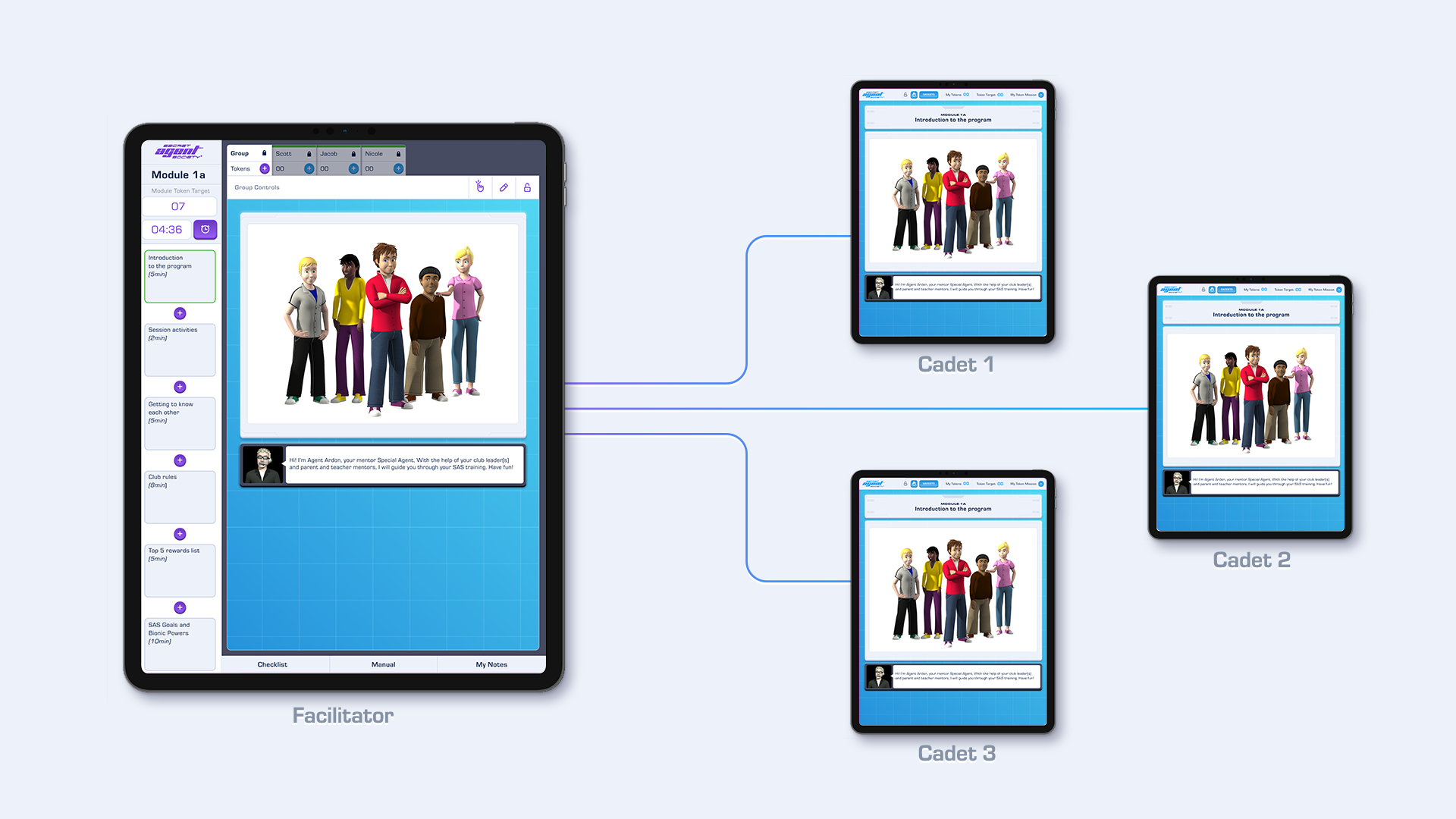 Each child in the SAS Small Group Program will have identified SAS Mentors (usually parents and teachers, and occasionally SAS Facilitators themselves). These mentors will be provided with a login to their Mentor Portal. Depending on the type of mentor and desired program input, each adult may have access to different SAS components such as:
live Parent Group Meetings;
Parent Meeting Notes ;
Teacher Tip Sheets;
Cadet progress overview;
Cadet Club Meeting Journal and Gadgets;
Questionnaire booklets, or the child's
Skill Tracker rewards system.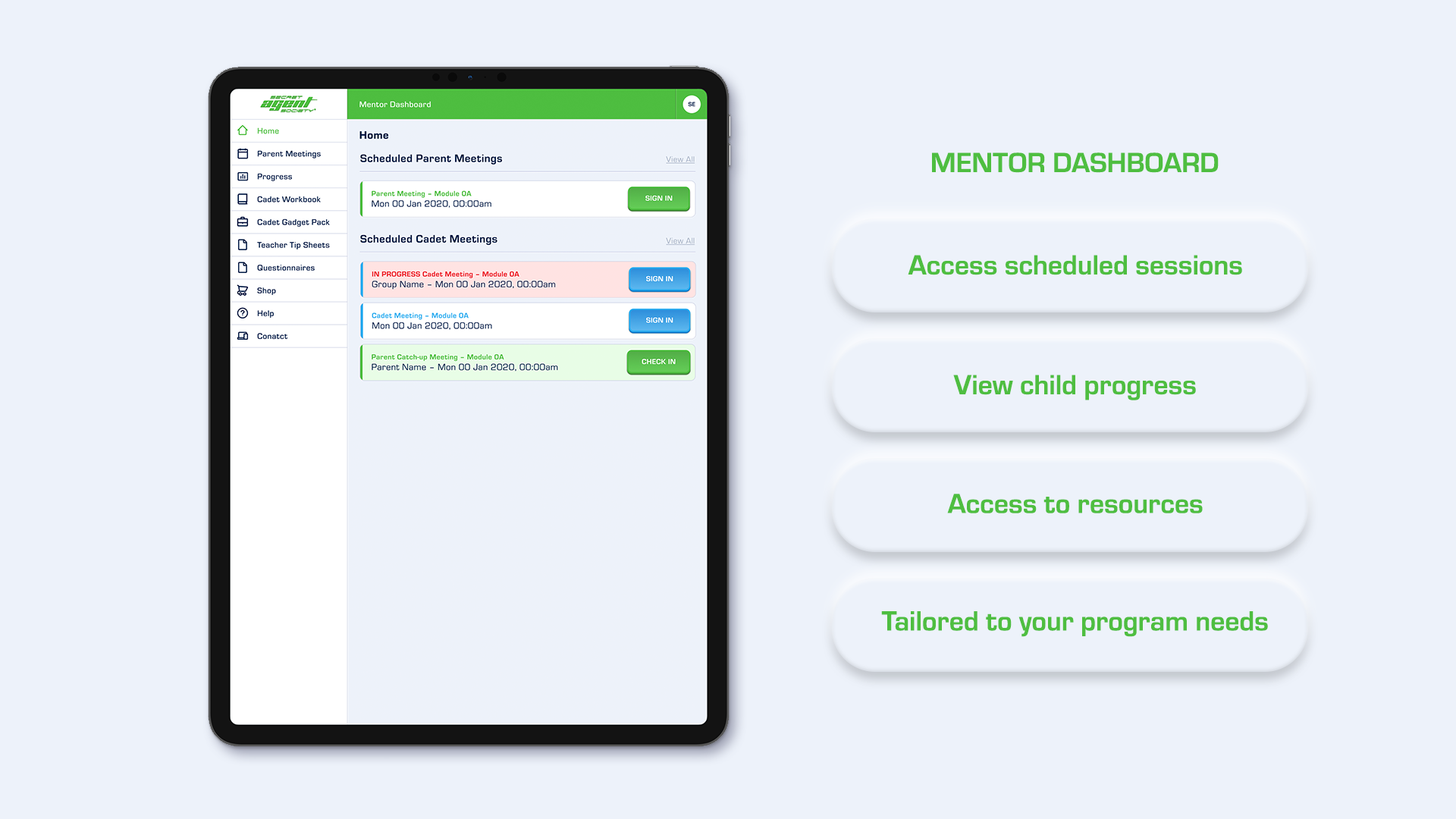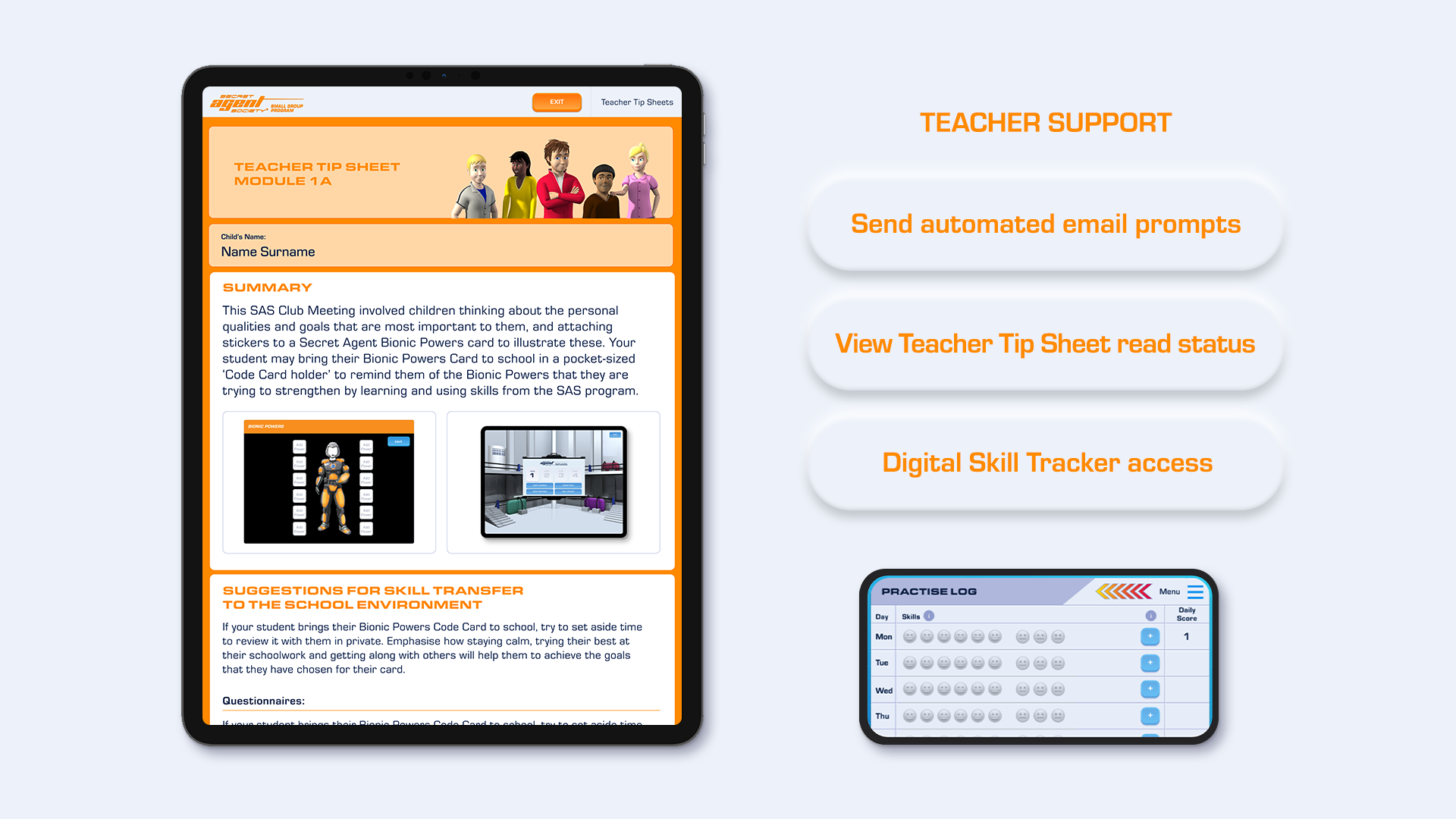 SAS Digital HQ is specifically for children to access the program components. Digital HQ supports facilitators in teaching children how to recognise emotions in themselves and others, how to cope with unpleasant feelings and how to manage social challenges. Each child enters the International Secret Agent Society Headquarters, where they complete a secret agent training course to become specialist mind readers. Firstly, children are introduced to the secret agent theme, and enter the 'control room' where they are prompted to start playing some initial learning games. Then week-by-week they access their live SAS Club Meetings together with their SAS Facilitator and fellow club members. Between group meetings children login to Digital HQ to:
review the content from club meetings in their Club Journal;
review and refer to their Gadget Pack items for everyday life prompts to use skills;
play the four levels of learning games and quizzes;
complete Mission Journal entries; and
log their skills practise in the Skill Tracker.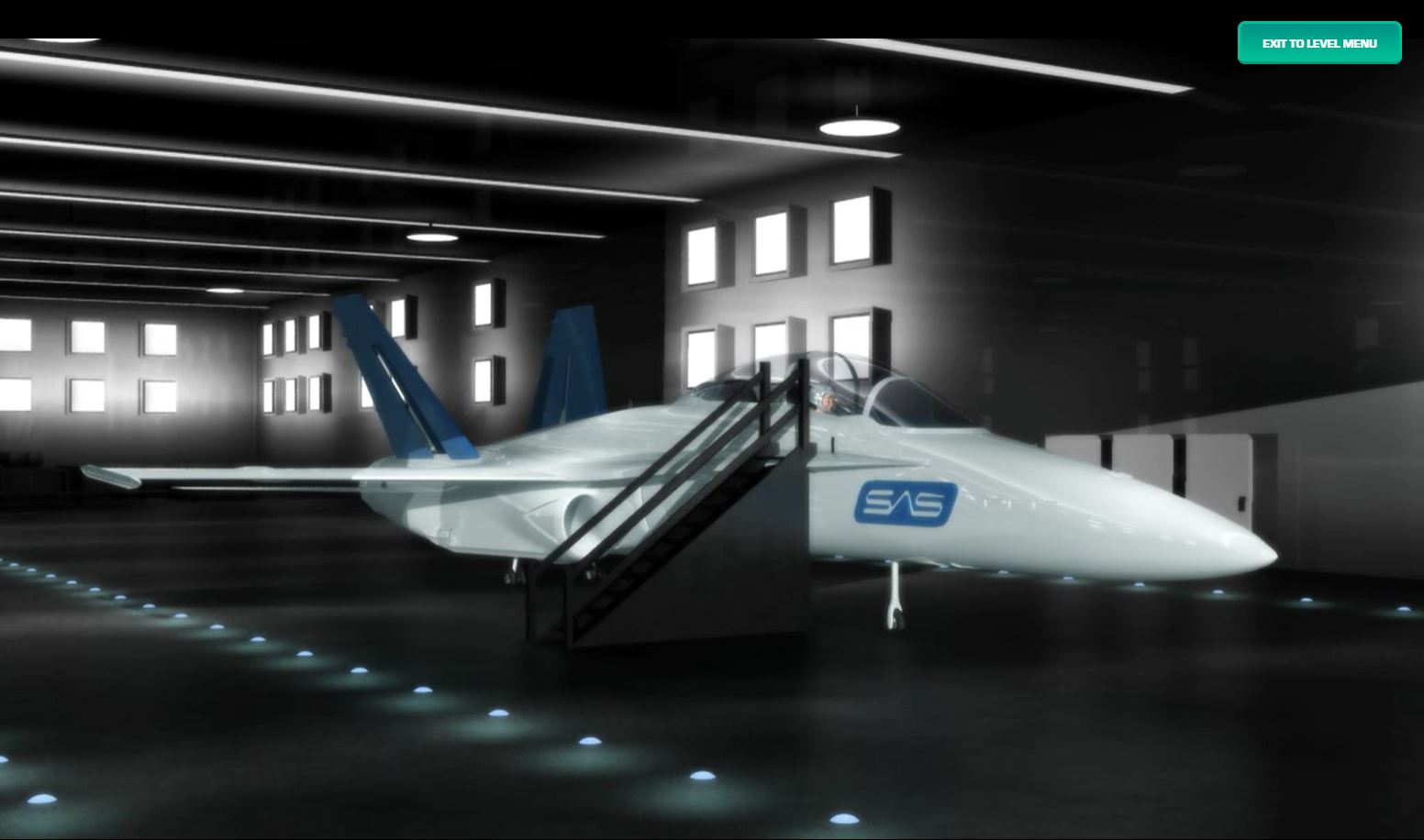 SAS has Evolved!
Holding a vision to expand program reach to ensure that more children feel happier, calmer and braver around the world, the SAS Small Group Program has evolved. The
digital edition
launching in 2021 offers an innovatively designed single platform, improved reporting, and greater accessibility all whilst removing the requirement for physical resources.
SAS has been at the forefront of best practice and research for over 10 years by taking a continuous improvement approach. This edition is no different as we push the program into the future giving everyone to latest technology tools to reach even more families in a more efficient way.
The Future of Group Program Delivery
Easy to use dashboard
Everything you need, all in the one place. From creating groups, running sessions and reading the facilitator manual, you can do it quickly and easily.
Self paced training
SAS Facilitators, both new and existing, will be able to learn about SAS via interactive online modules at their own pace either individually, or together with colleagues.
Just in time resources
Access training content, SAS Facilitator Manual, and session resources when you need them, whether during a club meeting or in your own time.
Manage groups
Create groups, allocate adult mentors, schedule club meetings and parent group meetings and view their progress all within the Facilitator Dashboard.
Interactive sessions
SAS Facilitators lead sessions interactively, allowing cadets to type, draw and play their way through meetings whilst you manage group and individual participation using your device.
Easy DigitalHQ access
Cadets will access all club meetings and between session tools such as their Gadget Packs, Skill Tracker, Mission Journal and Club Journal via SAS DigitalHQ.
Mentor coordination
Parents and teachers will have their own Mentor Portal for quick and easy access to Parent Group Meetings, Teacher Tip Sheets, Questionnaires, and cadet resources.
View progress reports
Overall group and individual progress will be reviewed in one spot. Review Skill Tracker activity, Teacher Tip Sheet access, meeting attendance, mission completion, and SAS DigitalHQ play.
---
Benefits

All on a single platform
Everything you need to run the program will be in one spot, from training modules to manuals, it's all in one easy to access place.
Improved reporting
See child progress and reporting in more detail than ever. More data means better measures of program fidelity.

Greater accessibility
This move enables more people to have access to the program than ever before, with geographic conditions no longer a factor.
No more books!
The move to digital means there are no more books or other physical resources. Instead, all the resources are digitally stored for convenience.
Find out more!
Start 2021 with the new digital edition of the SAS Small Group Program. We look forward to bringing you the future of group program delivery!
Provider Packages
Become an SAS Facilitator
Enrol in the online SAS Facilitator Training Course for 2021. Complete the course at your own pace or as a coordinated group. Link with a subscribed SAS Provider and start transforming lives.
Become an SAS Assistant
Enrol in the online SAS Assistant Short Course for 2021. Complete the course at your own pace and start assisting SAS Facilitators in their group delivery.
Become a Senior SAS Facilitator
Apply to commence the Senior SAS Facilitator qualification. Demonstrate your skill in delivering the SAS Small Group Program. Unlock system functionality and be recognised for your SAS experience.